This thread will attempt to provide information and illustration regarding the
Clutch Band Brake
as stopping power for your mini bike, trike or go-kart....
There are pros and cons to this type of setup....the main "pro" being that when properly mounted and adjusted it will stop the vehicle like nothing else due to the large contact area of the friction material's coupled with the mechanical advantage provided by the gear ratio. Let us suppose your final gear reduction ratio is 6:1. With the brake on the clutch, that little band brake will have 6 times the stopping power as it would on the axle.
The "con" is that if the chain breaks or jumps off...well.....you have
no
brakes unless you consider dragging your feet on the ground "brakes" :shrug:
Some bikes, like the
Bird Engineering Foremost Pinto
had a factory installed band brake as well as a scrub brake which could be used in tandem or as a "backup" brake in caser the other failed.
Another advantage of using this type of system is it's simplicity...
Typical design for a clutch band brake: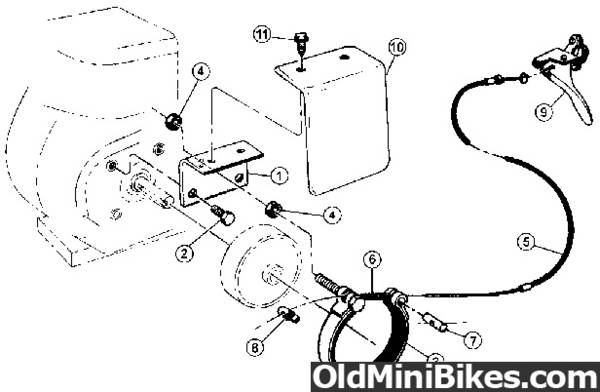 Many of the parts available through the OldMiniBikes:
http://OldMiniBikes.com/Band-Brakes/
.
Last edited: