I found this locally in very poor shape with the goal of getting it back to original and selling it and offering shipping- perhaps as an inexpensive Father/Son/Daughter project. I've got about 75 hours in it, and a few hundred in parts, including the original procurement.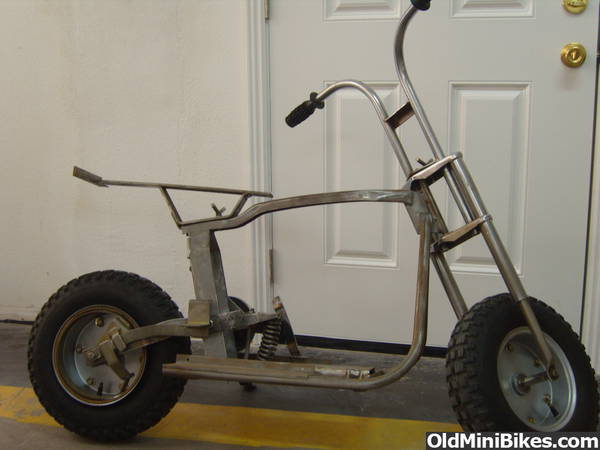 The frame was rough. I had to remove a welded-on extra engine plate. Using donor scrap steel, I filled in all of the holes on the original engine plate, as well as a few notches someone had cut in the lower frame angle iron.
I ground down the repairs, but have not done any filling. This would not be difficult, but choice of finish work depends on what type of coatings the new owner chooses to use.
I fabricated the "T" bolts which work and appear like original. I also fabricated a kick stand which almost looks original, but works exactly like original, with the spring and bolt assembly installed. I also fabricated the center belt guard mount, and the rear axle adjuster.
Since the bike did not come with any belt drive components, I sourced a rear pulley. I installed new high speed bearings (2) in it, and added 1/8" spacers to bring the width out to ¾" for a Comet driver/belt system.
The pulley is riding on a new grade 5 swing arm bolt, through new swing arm pivot bearings, and custom machined to specification axle and spacer hardware.
The idler pulley is exact specification size-wise to original, although it is a delrin piece from a Toro mower. It too rides on custom machined axles and spacers. The entire assembly is welded together with some easily fabricated arms, and knob assembly. The alignment is perfect, and it works like original for belt tension. All it needs is your spring, depending on engine choice.
I replaced the rear brake lining with new 1" liner, and installed all new bearings on both axles. Removed and inspected front suspension, and replaced squared ends with round tubing, and added upper oil lite bushing supports like the older versions.
There are no holes in the engine plate. Once an engine is selected, the Comet 20 driven should be installed, and then the engine aligned with the rear pulley system.
Note that the popular GX-based engines will require a 2" extension on the engine plate in front, as well as a 7/8" lift. A rear tank flathead, like Briggs will need the same treatment, or the carb/tank removed and a stand-alone carburetor and tank system installed. The reason for this is the height of the swing arm as it sits on the spring.
The rear sprocket has 3 teeth that are nearly gone. (This is what happens when we run swing arm bikes with a fixed chain to the engine) This will not be a problem. There is enough chain in a 41 to accommodate the torque, given the large diameter of the sprocket.
Chrome on bars and forks is decent. Tires are Carlisle and useable, with serviceable (one new) tubes. Comes with a re-pop fiberglass belt guard that will require a bit of fairing, paint, and mounting holes.
Select your engine, do some sanding and filler work, slap on some paint and make it your own. I can also bring this bike to any level desired at cost, with appropriate deposit. I estimate shipping anywhere at $175 or less.