Hello,
My name is John, born in 1976 and living in Netherlands. Small country in Europe where "your minibikes" are very rare. Ok, we do spot a small Honda once in a while. And those Chinese pocketbikes you get when you do grocery shopping;-)
I have a Chinese pocketbike, too. And when it broke down and looking for parts I ended up here. Seeing all those nice, 4 stroke engine powered, bikes and builds. It got me thinking; I want that, too. The Chinese pocketbike is in running condition again, but it's litterally a pain in the @ss. Also another reason to make me (and my daugthers) a real minibike.
But rare as they are, I will build my own from scratch. I'm not making an exact copy of 1 special brand/type, but will be snitching several ideas of this forum.
If anybody recognises his idea in my build; Thank you! Your idea has made it over the pond...
Really; thanks! Great forum, with loads of nice stuff to be found.
Details of my to build/drawing:
Engine: Honda GX 160
Tires: 145/70-6
Wheelbase: 890MM (yes, Dutch metrics.../25,4=...")
Rake: 30 degrees
Trail: 85MM
Center to center bottom and top tube: 450MM
Handlebars height from ground: 890MM
Main tubes diameter: 26,9MM (better safe than sorry and a more ridgid look)
Chain: #219
Sprocket front: 15T
Sprocket rear: 75-85T
If someone has any remarks, tips, or knows I'm way of in measurements, feel free to let it know.
For the build I have enough tools, like a mill, lathe, TIG & MIG welder, etc. Anything to make a nice bike.
Enough text for now, here are some pictures: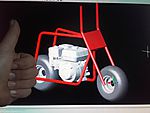 3-D software makes life a lot easier.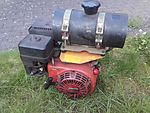 I bought 3 of those Honda GX 160 engines.
145/70-6 tires and 6" rims.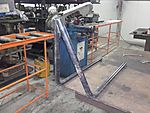 Getting a frame together. (at this point it seemed smaller as I imagined, altough I got some measurements from some threads here)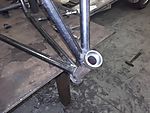 Head tube ready to accept some bearings I have somewhere in a pile.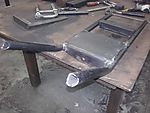 Front/forks getting together.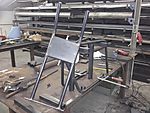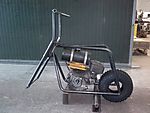 I wasn't able to take a picture and sit on it the same time... (this is more comfortable as to a Chinese pocketbike)
More parts have arrived and drawing is getting upgrades. Sprocket adapter, axles, etc...
At the moment I'm a bit in a struggle with designing sprocket and disc brake adapters to fit my wheels. As I don't have the sprockets and discs yet. It has to be something solid, straight and easy to make.
"Stay tuned"